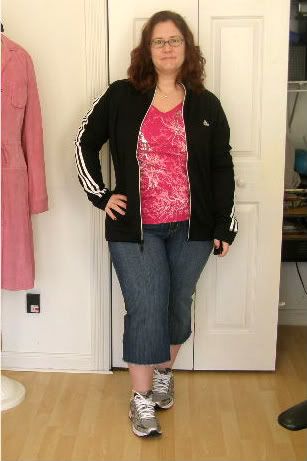 Ooooh, look at me.  I'm soooooo sporty today!
I went to a new podiatrist today – a sports podiatrist! – for my tendinitis in my foot.  It's irritatingly painful & just won't go away & stay away.  So I'm trying a new tack – cortisone shot, in the foot.  Funnnnn!  Plus, got a soft cast for an ankle sprain that hasn't fully healed after 5 weeks.  Also, I need to stay off my feet for a week.  A major bummer but what did I expect?
Anyway, what I wore:
New Saucany sneakers, specifically purchased to work out in – $40 at Marshalls
high water jeans – Goodwill (ages ago)
Se7en t-shirt (again, from ages ago)
Adidas zippy I picked up at Marshalls as well.
(It was $15 & I've been needing a lightweight layer for outdoor workouts on non-hot days.)
Up close of the shoe.  I really like the pink!  Plus this brand tends to be supportive while still being cushy.  Way important for my feet!