I am so excited to have my home office finally back up & running!  I can again sit down & learn some new things with no deadlines looming.  Much more relaxing than trying to learn new things on the fly at work.  Not that I'm complaining – I love that type of stimulation as well.  Sometimes I learn & do best when I absolutely have to – when there is no other choice but to get it done.
Anyway, I started going through a lot of the design magazines that had been gathering on my desk.  This particular "lesson" is from Web Design 4 – The digital creative's guide to Flash, Photoshop, Dreamweaver, CSS and WordPress.  (Mouthfull!)  From now on I'll just call it Web Design 4.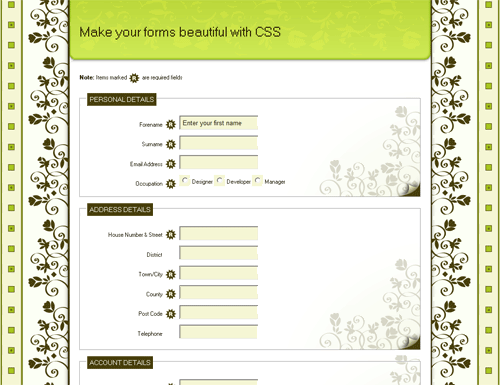 Today I did their tutorial that showed how to cutesy up a form using CSS.  Very nice!  My actual page is here – amycarriere.com/testing/beautiful-forms/index.html.  A lot of it is doing the prep & planning the graphics ahead of time.  The tutorial provided the graphics & initial files but showed how to add the styles to make it all work together.  It's a nice touch that shows that the designer thought the design out & didn't overlook the least detail.